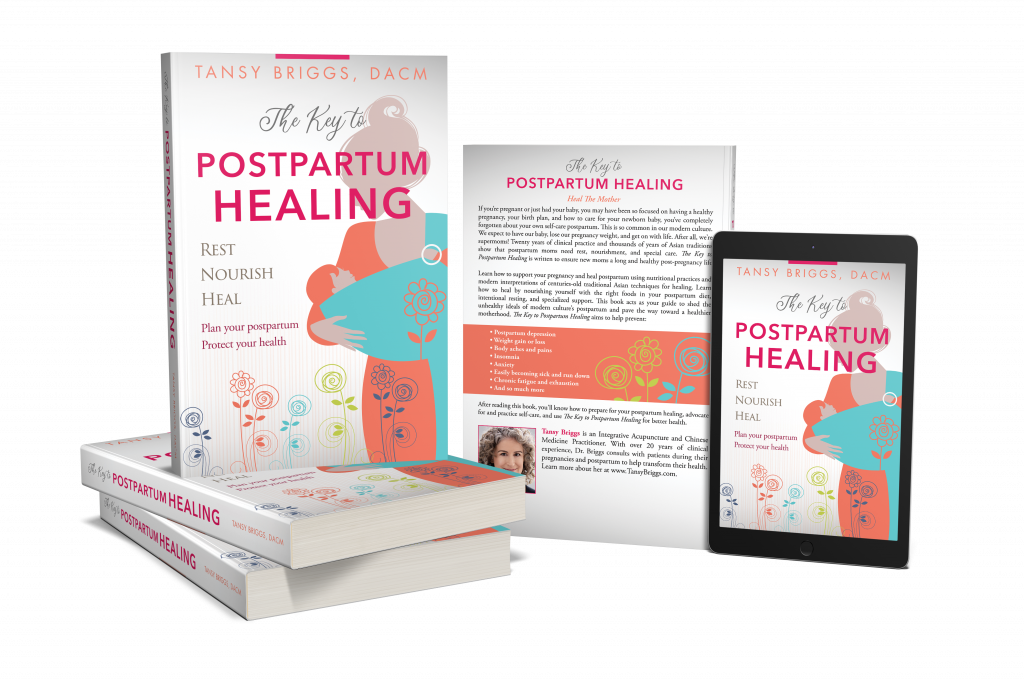 If you're pregnant or just had your baby, you may have been so focused on having a healthy pregnancy, your birth plan, and how to care for your newborn baby, you've completely forgotten about your own self-care postpartum.  This is so common in our modern culture.  We expect to have our baby, lose our pregnancy weight, and get on with life.  After all, we're supermoms! Twenty years of clinical practice and thousands of years of Asian traditions show that postpartum moms need rest, nourishment, and special care.  The Key to Postpartum Healing is written to ensure new mom's a long and healthy post-pregnancy life.
Learn how to support your pregnancy and heal postpartum using nutritional practices and modern interpretations of centuries-old traditional Asian techniques for healing.  Learn how to heal by nourishing yourself with the right foods in your postpartum diet,  intentional resting, and specialized support.  This book acts as your guide to shed the unhealthy ideals of modern culture's postpartum and pave the way toward a healthier motherhood. The Key to Postpartum Healing aims to help prevent:
Postpartum depression

Weight gain or loss

Body aches and pains

Insomnia

Anxiety

Easily becoming sick and run down

Chronic fatigue and exhaustion 

And so much more
Reading this book:
you'll know how to prepare for your postpartum healing, advocate for and practice self-care, and use

The Key to Postpartum Healing

for better health.