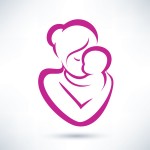 I have the privilege of seeing many women through the process of fertility and pregnancy.  They regularly come in for acupuncture treatment and we also discuss nutritional and herbal needs, how they are feeling, what to expect at every stage, and any other personal stories that tend to come up during the months they share their lives with me. I do my best to help them prepare for the next stage: having their baby. At this stage, I rarely see them in the clinic unless there is a significant complication in their health. Often they lament that they need care, but can't figure out a way to juggle all of life's demands and make time for coming into the clinic.
There is an adage in Chinese Medicine that says: "To Treat the Child, Treat the Mother"
The first three months after a full-term pregnancy is considered the fourth trimester.  Unfortunately, it is also known as the "forgotten trimester." Postpartum health is more than a women's issue.  It is more than losing the 'pregnancy weight'. It is vastly important to not only the woman herself, but for her baby and for her family.  Not only that, how she heals postpartum can have lasting effects on her health throughout her life. Our modern culture, the concept of the 'superwoman' is rewarded — have your baby, jump up immediately, lose the pregnancy weight and resume normal life. This notion goes against thousands of years of experience in Asian Medicine.
In Asian cultures, postpartum care is a traditional practice passed down from grandmother to mother and mother to daughter for many thousands of years.  New mothers are fed and cared for by either a hired professional who specializes in this field (confinement doula) or other female members of the family. During this time, special diet and foods are cooked and fed to the new mother, the baby is co-cared for, and new mothers are massaged, oil rubbed, bathed in ginger water and heal during the 30-40 days after birth.  Traditional practices like this help the new mothers recover postpartum and prevent premature aging. There are many benefits of this traditional practice focusing on diet, lifestyle and self-care for the first 30-40 days.
All this sounds lovely! But, sadly, these are not traditions that are supported or carried out by the average modern western woman or promoted through the average western medical advice.  Further, not many modern studies have been done in collecting data that is comprehensive enough regarding cultural traditions of postpartum care to be used in conventional medicine. Generally, the mother is seen about 6 weeks postpartum for a check up.  There is so much healing to be done in these 6 weeks! So, how can we support proper postpartum healing within the constraints of the average western lifestyle and expectations?
Proper healing postpartum may help prevent and/or heal:
·      Postpartum depression
·      Hemorrhoids
·      Uterine Prolapse
·      Urinary incontinence
·      Diastasis Recti
·      Weight gain
·      Premature aging
·      Hormonal imbalances
·      Body aches
·      Imbalances that could lead to other diseases later in life such as thyroid problems, osteoporosis, increased symptoms with peri-menopause and menopause etc.
In my clinical experience of over 20 years of practice treating women of all ages, I have treated many of these issues with positive results.  I have so many examples of woman who have finally been able to come to me for treatment, sometimes months to years after giving birth and say "I just haven't felt right since having my baby."  These issues can range from pain, fatigue, insomnia, anxiety, easily becoming sick, incontinence, irregular menstrual cycles and depression to name a few.
In Western culture and healthcare, healing mom's postpartum is mostly left out of our healthcare system.  
I worry that our western culture has put this type of pressure on families.  Women are expected to 'get on with it'. Get back to work, sometimes as early as six weeks postpartum or earlier, lose the 'baby weight' or care for your new family at home. It is ironic that many studies have shown that this vulnerable time for women and children is also a very important period of time that can have profound impact for their health on the rest of their lives.  Whilst I don't expect that all of a sudden we will fully adopt the Asian practice of postpartum care, there are many things we can do to aid and support postpartum healing, even if one is unable to come in for regular care in the clinic or have access to Acupuncture and Traditional Chinese Medicine.
Nutrition
Help your body heal and produce nourishing milk using the warm digestion principle:
o  Start your day with a warm, cooked breakfast. Include warming proteins with your breakfast.
o  Drink only warm or room temperature beverages (this includes water).
o  Eat lots of soups and stews, such as bone broth soup, miso soup, chicken soup and beef stew.
o  Avoid all raw vegetables until month four after giving birth, then only eat them sparingly.
If you'd like to learn more about warm digestion Read More Here.
Rest
o  Spend most of the first month horizontal, giving your abdomen and pelvic floor a chance to heal.
o  Try to avoid picking anything up heavier than your newborn.
o  Only consider light exercise like walking after six weeks postpartum (and longer if you've had a c-section).
o  In the second to third month postpartum begin restoring your core exercises.
o  Avoid any impact exercises where you are 'bouncing your pelvic floor' until you are fully healed (such as running, jumping, etc) – sometime in the fourth month or even longer postpartum.
Acupuncture and Chinese Herbal Remedies
Acupuncture and taking Chinese Herbal Remedies are also very helpful during the first three months but can also help heal many months to years after giving birth if you have an issue that hasn't resolved.
Finally, be gentle to yourself, accept help and remember to let yourself HEAL postpartum.
You're not stuck with the health you have!  
The views and nutritional/herbal advice expressed by Tansy Briggs, DACM, L.OM is not intended to be a substitute for conventional medical service. Purchasing a product, program or wellness coaching does not establish a practitioner patient relationship with Tansy Briggs, DACM, L.OM.  If you have or suspect that you have a medical problem, promptly contact your health care provider. We suggest that you continue to work with qualified medical professionals as you engage in our material, products and services. No information offered here should be interpreted as a diagnosis of any disease, nor an attempt to treat or prevent or cure any disease or condition. Information and statements regarding products and/or services made available by Tansy Briggs, DACM, L.OM have not been evaluated by the Food and Drug Administration.  Tansy Briggs, DACM. L.OM or Integrative Health Link products and services are not intended to diagnose, treat, cure or prevent any disease.